Sarah Eom's research on augmented reality for retinal laser therapy is profiled by the Duke Eye Center VISION Magazine.  This project, done in collaboration with Miroslav Pajic (Duke ECE) and Majda Hadziahmetovic (Duke Ophthalmology), not only demonstrates a new application of augmented reality, but also advances the state of AR support for detail-oriented tasks broadly.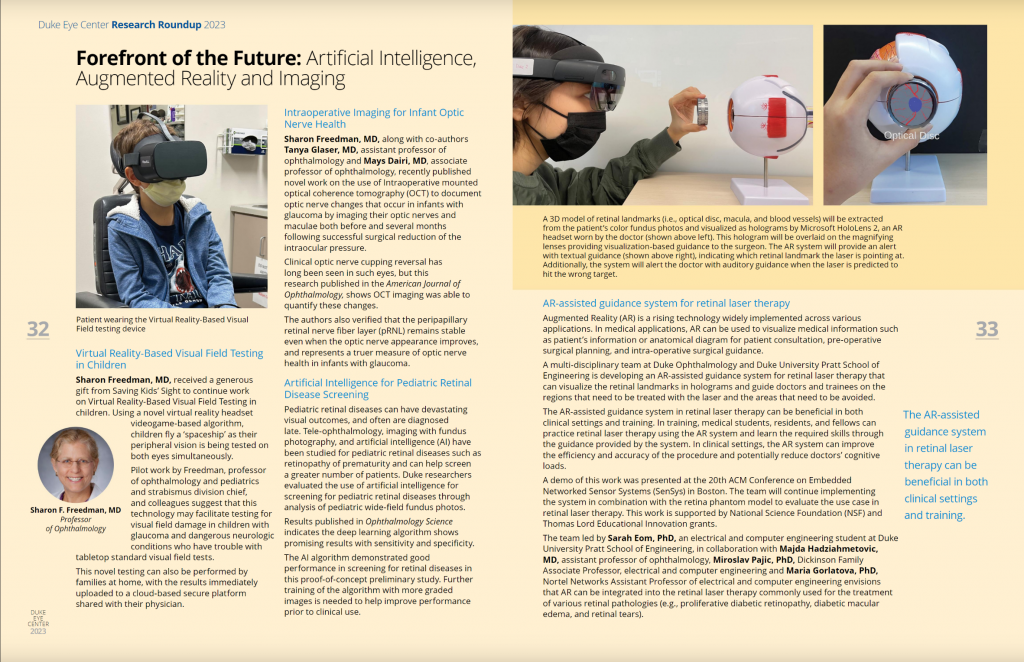 In February 2023 Sarah Eom received the Duke University Eye Center Research to Prevent Blindness Small Grant Award to continue advancing this work.
Related publications:
[ARVO23] S. Eom, M. Pajic, M. Gorlatova, M. Hadziahmetovic. Augmented Reality for Retinal Laser Therapy. Investigative Ophthalmology & Visual Science, 2023. Presented at the annual meeting of the Association for Research in Vision and Ophthalmology (ARVO), New Orleans, LA, Apr. 2023.
[IPSN23a] S. Eom, R. Janamsetty, M. Hadziahmetovic, M. Pajic, M. Gorlatova, Demo: Edge-based Augmented Reality Guidance System for Retinal Laser Therapy via Feature Matching, in Proc. ACM/IEEE IPSN'23, San Antonio, TX, May 2023.
[SenSys22] S. Eom, M. Hadziahmetovic, M. Pajic, M. Gorlatova, Demo: Through an AR Lens: Augmented Reality Magnification through Feature Detection and Matching, in Proc. ACM SenSys'22, Boston, MA, Nov. 2022.