Long before I even started exercising, I caught, randomly, a Canadian TV special dedicated to the Escape From Alcatraz Triathlon race.  It seemed insane — people swim over 2km from the Alcatraz Island to the San Fransisco shore, then bike on San Fransisco hills, and then also run 8 miles, also on these crazy hills! Insane! What kind of a crazy person would want to do this, I thought.
Fast forward 5 years, and — last week, I did it. Forced myself to jump off the San Fransisco Belle into the very cold water with the coast barely even visible, battled currents for far too long and then biked the hills and ran the beautiful but treacherous 8 miles on all sorts of terrain including the soft pacific sand.  Fantastic experience.
Finishing up the race with the biggest smile on my face: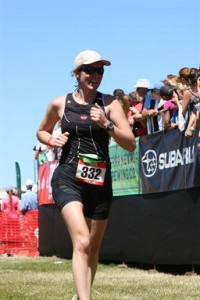 Biking along the beautiful coastline. The views there are stunning.
Past race. OMG, that Alcatraz Island is far!