As of this weekend, I have finished a total of 50 races. My first race was a May 2009 Jersey City 10K run. My 50th race was a Harriman State Park olympic distance triathlon (1500m swim, 40km bike ride, 10K run). Of the 50 races, the most challenging were the 3 marathons, the 1/2 Ironman, and a handful of triathlons and 1/2 marathons that I had aggressive time goals for. I raced in Canada, USA, and Switzerland.  In the USA, I raced in California, New York, New Jersey, Pennsylvania, Washington, New Hampshire, and Maryland. I would not name a favorite race because I do not play favorites with my races. But many were truly spectacular. Philadelphia's Broad Street Run, a 10-miler that goes through the heart of the city, deserves a special mention. So does the "only one hill" Mount Washington Race (see the blog post here), and of course Escape from Alcatraz and NYC triathlons. All were magnificent.
I never thought I would complete 50 races. I never thought I would complete 5, even. But here we are.
First of all, I feel fortunate. I know that many stars aligned for me to be able to participate in races. I have to be healthy and energetic. I have to have my husband's support. I have to be able to afford both the training and the racing. My favorite sign, spotted at one of the races, is "Some day you will not be able to do this. Today is not that day." I am profoundly and continuously grateful that today is not that day.
Second, I feel that I ought to be getting faster. Frustratingly, there has been no improvement in my finishing times over the last 3-5 years. Its not that I am slow — I am not. I do not finish last;  indeed, I claimed a handful of age group awards from smaller races. But I am not faster now than I was 20 races ago. Year after year, month after month, week in and week out, I train — I would not be able to finish these 50 races if I did not. But I do not train with the focus and intensity that would push me to the next level. Every year, I intend to, but I do not; life end up getting in the way. Is this year the year I get faster? Is the next one? I sincerely hope that my next 50 races will be on average faster than these first 50.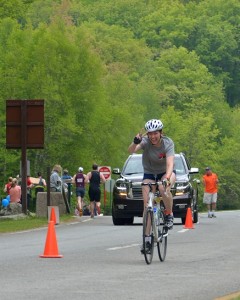 Yay racing!
"What's next?", one might ask. My "race bucket list" is long, and includes the usual bucket list items (London and Amsterdam marathons), personalized additions (swimming across Lake Zurich and running from Nice to Cannes), and many crazier races for which I would have to get faster and stronger. We'll see. The balance between getting better at what you like and life getting in the way of it — that balance exists, and will be found.