The legendary and glorious Consumer Electronics Show. A congregation of more than 170,000 people (for comparison, I grew up in a city of only 30,000), in the shiny artificial Las Vegas. A happening that takes over tech pages in all the media for the week before it and multiple weeks after. An almost 50 year old event where a camcoder, an HD TV, and an Xbox were first shown to the excited public.
I dreamed of going for the last 3 years; I served as a judge for the CES Innovation Awards this year; and I finally made the trip happen.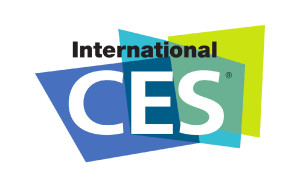 It was all I expected, and more. I expected big — it was bigger. I expected the coolest new technologies — there were more technologies, and they were even newer and even cooler than I anticipated.
A sample of CES experiences I did not expect to have but did:
Walking into a Faraday cage – a cell phone signal booster technology company had an actual Faraday cage installation on the CES floor.
Partying: I probably should have known that there would be parties — when this many people with common interests are brought together, it makes sense for some subgroups of them to congregate in some number of evening venues. Not only were there multiple parties, the parties were actually good, memorable and exciting. Who would think that a $100 CES show floor ticket gets one into nice venues with open bars. Had I expected parties, I would have expected them to be less than they are.
Seeing Michael Phelps up close and personal. I probably also should have known that big-name show floor exhibitors bring in big-name celebrities. Under Armour brought Michael Phelps. Creative Labs brought Wyclef Jean. These are the two celebrities that Val and I got to see – these must have been many others.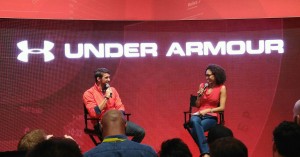 Product variety at CES is mind-boggling. TVs, cameras, toys, medical equipment, gaming consoles, audio equipment, robotics, 3D printers, cars and car equipment, fitness trackers, phones, phone accessories, "connected home" equipment – it goes on and on.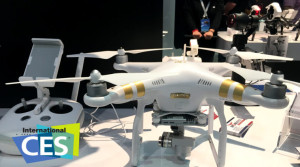 Drones: All shapes and sizes, everywhere. Small drones, huge drones, jumping drones, drones that can land on water, round drones, – whatever drones you can think of, they are all being made, apparently, and all are being showcased at CES.
Drone demonstrations, set up in drone cages like this one, were everywhere – I saw at least two dozen.
Multiple demos were showcasing drones' impressive collision-avoidance capabilities.
Parrot had an impressive and popular choreographed drones "dance" demo in a big drone cage. Some videos of the demo are available online, but in my opinion the videos do not quite do justice to the experience – the demo is far more impressive in real life than videos suggest.
[ Side note: drone cages looking somewhat like fighting arenas made me think of a number of Sci-Fi movie plots. Now we put robots in cages and make them do silly things for our amusement. Next they'll become more and more intelligent, start to resent the cages, rebel against us, and enslave all of humanity. Yep, I can see that happening. ]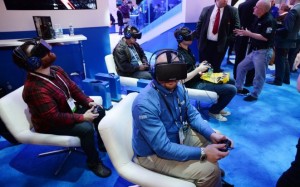 Virtual Reality (VR) headsets: Ubiquitous, like drones, dozens showcased on the floor. Before I went to CES, I tried a VR headset once. At CES, I tried about half a dozen in one day.
Automotive technology: Not so much the theme for this year, just a surprise for me because I had no idea how big of automotive technology is at CES.
Virtually every big-name car manufacturer was there. They had multiple product announcements, did test drives – the works.
Multiple automotive demos showcased real-time obstacle/pedestrian detection. For example, you could walk, run, jump around a car and see it detect you everywhere around it.
One big-name manufacturer had a lovely display of not a particular functionality, but of all the electronics that are in their car: a see-through clear plastic car model with electronics all in place. A display that makes one realize that modern cars do indeed belong at an electronics show.
Supercomputers: Working on developing supercomputers since 2014, I saw my CES trip as more of a vacation than a work-related activity (supercomputers are not consumer technology, are they?). Imagine my surprise when I saw supercomputers at CES:
As part of its automotive technology section, NVIDIA displayed its just-announced liquid-cooled Drive PX2.
In the start-up Eureka Park section of the show floor, there was a supercomputing development of a different kind: a computing radiator, an HPC-grade supercomputer that is intended to be deployed as a radiator, while the compute time on it is sold to companies and R&D labs. I was mightily impressed – what a creative way of managing supercomputer-produced heat!
Bottom line: CES 2016 was an experience that I wanted for years, and more.
Second half of this blog post: Seeing all the latest and greatest is exciting, but will I buy any of what I have seen at CES?
Food for thought from the web: