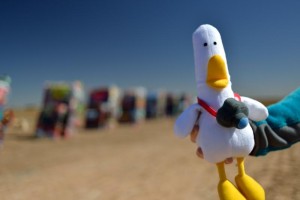 This is Duck. He is a photographer, never separated from his little camera, and he loves to travel. He joined our household back in August, just in time for a 2-week New York to San Diego road trip.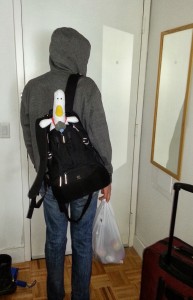 Here is him leaving for that trip – doesn't he look excited?!
And boy did he have fun!
In Pennsylvania, he visited Punxsutawney Phil (who unfortunately was not home) and hung out with Rubber Duck who just happened to be visiting Pittsburgh then. In Kentucky, he listened to bluegrass and met Funny Cide and other retired celebrities at the Kentucky Horse Park.
In Tennessee, he had BBQ in Nashville and enjoyed the festive atmosphere of Beale Street in Memphis. In Texas, he met the Big Tex at the State Fair of Texas in Dallas (Big Tex is right behind Duck here) and saw the Cadillac Ranch in Amarillo (see the Ranch behind Duck in the very first photo on the top).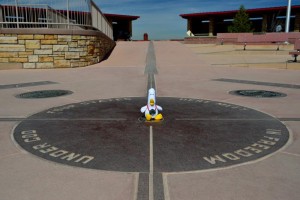 Here is Duck at the Four Corners – at once in New Mexico, Colorado, Utah, and Arizona!
Duck visited several parks and was simply blown away by the dramatic scenery of these states. Amongst other places, he visited Horseshoe Bend near Page, AZ and spent quite a bit of time at the Monument Valley near the Four Corners: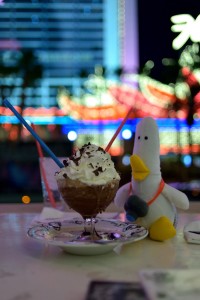 In Nevada, Duck had a stop-over in fabulous Las Vegas. Had frozen hot chocolate with a prime view of the Las Vegas Strip 🙂
And in California, he got to enjoy local wineries and make friends with certain San Diego locals:
Flying back to New York from San Diego, although he was a bit sad that the trip was over, the stunning aerial view of Grand Canyon cheered him up yet again:
---
After this trip, Duck has already also done some East-coast traveling. Here is him with a duck family in Boston and with Philbert in Philly:
He is heading to Toronto soon, looking forward to the places he'll visit and new friends he'll make.