What a great race! Even better experience the second time around (my first one was in 2012); truly an experience of a lifetime.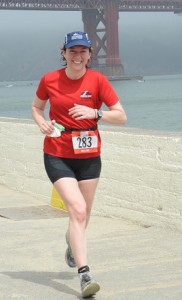 This race is on many people's bucket lists for many reasons. The course is tough – swimming 1.5 miles from Alcatraz to San Fransisco shore in very cold water with strong currents, biking 18 hilly miles, running 8 miles on a very challenging hilly and 1/2 train terrain. The scenery is breathtakingly beautiful. The race organization leaves nothing to be desired – it is a very logistically challenging race that somehow seemingly runs without a single hick-up.
But more than the other things, it is the atmosphere at this race that makes it an absolutely incredible experience. This is what running Boston marathon must feel like for runners. You are surrounded by so many people dedicated to the sport, coming from all over the world to take part in this celebration. The atmosphere on the boat that takes people to Alcatraz is so memorable and distinctive! Nervousness – but desire to get on with it already! – about the race, sense of unity – but competitiveness! – with so many others who will do the very same course you are about to do. An experience of a lifetime. To all triathletes I recommend this race highly and without reservations.
Preparation-wise, one thing made a major difference for me: preparing to jump into very cold water (in this race, athletes jump from the boat into San Fransisco Bay and swim to the shore). I previously read in a few places to prepare by taking cold showers. I did that for the 2012 race  – and it made no difference whatsoever. The submersion into the bay's icy water was a shock to my system; it was an unpleasant panicky experience. This year, I did something different: I prepared not by taking cold showers, but by jumping into cold water sources. Several times earlier in the spring I jumped into the cold outdoor pool of my apartment building (you should have seen the faces of my neighbors who saw me going in there!). The day before the race, I also dove, wetsuit-free, into the Bay water at San Fransisco's Aquatic park – to get a taste of an even more extreme experience than the race start. Preparing like this made a huge difference. The jump at the start of the race was a non-event for my body. I was happy to be out swimming, to be moving, and enjoying the scenery. I recommend this method of preparation highly and without reservations!
Mandatory post-race shot with Alcatraz in the background: