The wisdom of racing is that finishing dead last (DFL) is better than not finishing (DNF), and not finishing is better than not starting (DNS). DFL < DNF < DNS.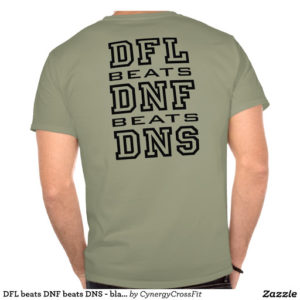 Well, T-shirt wisdom aside, sometimes you gotta take the annoying DNS.  And that's the case with my planned 2016 New York City Triathlon, which is going on this Sunday, less than 16 hours from now. Although as of a week ago I was all set to go, a stomach bug has made doing this race a big question mark as of Tuesday. By Thursday, the question mark morphed into a clear DNS sign. While I am better now (I am sitting up and writing coherent sentences, after all!) and would probably finish the race if my life depended on it, I know I shouldn't attempt it. I did not eat or drink much of anything all week; with less than 48 hours to go before the race, I could not drag myself to the packet pickup and could not stomach anything but toast. In theory I could probably finish the full olympic-distance race. In reality, I should probably settle for doing an easy 5K run in an air-conditioned gym.
Not starting a race sucks. Having done this particular race before [ a blog post about the first time I did it ], I am acutely aware of what I am missing. The magnificent views from the closed-off West Side Highway turned bike course. The camaraderie of the pre-race age group corrals and post-race hanging out in the heart of Central Park. On the other hand, it could have definitely been worse. This NYC Triathlon was supposed to be my "B-race", a second-priority event that is a tune-up for more important events. A stomach bug the week before a B-race >> stomach bug the week before an A-race. And I did not travel for this race either — its not that I dragged my family halfway across the country for nothing. And, having done this race before, I already crossed it off my bucket list. Missing this race is not pleasant, but it could have been much worse.
At the start of every race that I do, I feel grateful because I know that being able to start a race is a privilege. That many people wanted to do it, but could not. Perhaps missing this race will further heighten this feeling for me in my future races. And while NYC Triathlon 2016 is not going to happen for me, hopefully there will be many more NYC Triathlons in my future.