Amazon recently announced that it will be partnering with over 50 additional brands in deploying its Dash buttons, small electronic buttons that can be sprinkled around the house and clicked to order the product a button represents. There are now more than 150 buttons available, covering products both ubiquitous (Doritos, Huggies, Gatorade) and niche (Greenies, L'il Critters Vitamins, Optimum Nutrition Gold Standard 100% Whey Protein).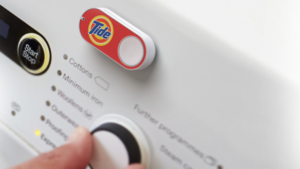 A Dash button in its intended deployment.
From an engineering point of view, Dash Button is a curious creature. Other smart buttons, such as the Flic Wireless Smart Button, exhibit the design choices that an engineer would naturally come up with: a smart button is a small device with a replaceable coin cell battery, communicating over Bluetooth. If you come up to me, or any other engineer, and ask them to sketch on a napkin a smart button design, you'd get something like Flic.