9 ECE and CS independent undergraduate research projects on next-generation AR and VR were completed in the lab over this semester. This work is supported in part by NSF grants CSR-1903136, CNS-1908051, and CAREER-2046072, and by an IBM Faculty Award.
AR-assisted Neurosurgery
Seijung Kim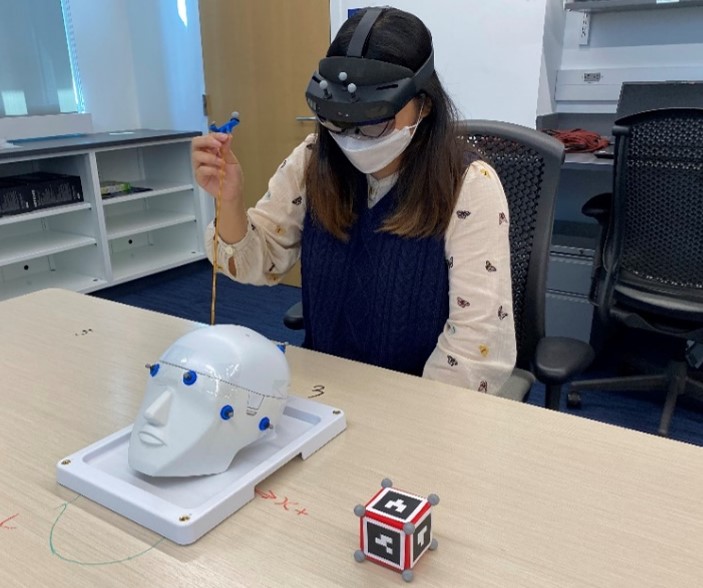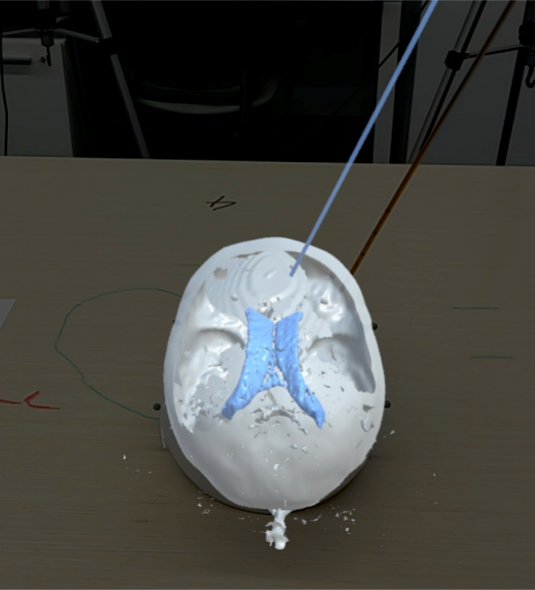 Experimental setup (left), and the view of holograms overlaid in AR (right)
Seijung worked on improving the AR-assisted surgery platform we have been developing. The current platform runs with two world coordinates from OptiTrack and HoloLens 2, thus requires calibration to convert one coordinate system to another. She designed and built a 3D printed cube with ARToolKit marker to successfully calibrate the two world coordinate systems between OptiTrack and HoloLens 2. Then she worked on enhancing the robustness of optical marker tracking, for stationary and mobile objects. Compared to a stationary phantom model, a surgical tool is a mobile object during surgeries and the tracking suffers from false positives and noise of optical markers. Seijung explored various designs of 3D printed mount for a surgical tool, to determine the optimal configuration in terms of the number of markers, the distance between each marker, and the direction of marker attachments. She will continue working on integrating more contextual guidance into the system and achieving the level of robustness and accuracy of the system for our user studies in clinical settings.